Guild Wars are taking place in Caernarvon every Sunday at 12PM (GMT) and it takes an hour. If you participate in a guild war, you will not be able to leave Caernarvon until the end of guild war hours.

Participate a Guild War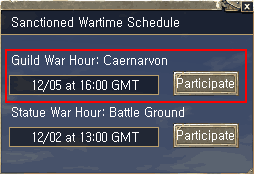 Click [O] to check the wartime schedule and click 'Participate' on the next to Guild War Hour to join a war.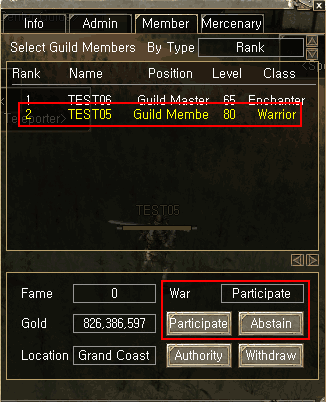 To always join the war, press [G] and go to the member tab, then select your name. Once you select your name, you will see 'Participate' below. Clicking the 'Participate' will automatically join you to the war and instantly takes you to Caernarvon when the war starts.
If you want to cancel auto-joining guild wars, please click 'Abstain'.
Start the War
Once a guild war starts, all players who joined the war will be taken to Edinburgh Castle.
During the war time, you can build or/and defend your fotresses or attack enemies' fortresses to destroy.
Guild Fortress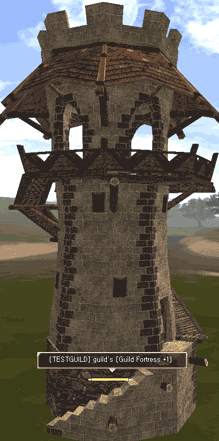 All types of fortresses will attack if their enemies come near to them. When they are upgraded, their HP and damage will be increased.
Every fortress has a certain amount of health. Once it takes enough damages, it will be destroyed.